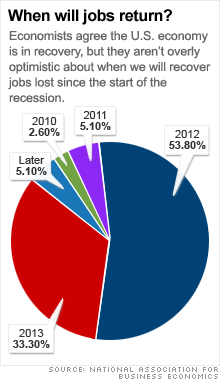 Posted by Nicholas Vanikiotis
NEW YORK (CNNMoney.com) -- The unemployment insurance bill that President Obama signed Friday won't just help the jobless and the homebuyer. It also includes a long-awaited break for businesses that will let them quickly turn their recent losses into cold cash.
The bill will let all businesses apply their losses from either 2008 or 2009 to any five years prior to 2008. By doing so, they can get a refund from the IRS on the taxes they paid for those five years.
A loss is defined as the amount by which a company's tax deductions exceed its gross income.
Under current law, the so-called "net-operating loss carryback" is only allowed for two years.
There are only two restrictions to the new provision. The first is that no business that has accepted funding from the Troubled Asset Relief Program (TARP) would be eligible for the break. And the second is that any refunds for taxes in the fifth year would be reduced by 50%.